Finding freelance illustration jobs online is not easy. If you search on any popular freelance platform, you'll find less than 100 outdated job postings for illustrators.
Some stick to social media to find commissions but it can be quite depressing too.
The rise of AI art generators only made things worse.
But, there's no need to be discouraged. There are many different ways you can make money online as an illustrator.
In this post, I'll show you some of the ways freelance illustrators make money online. And prove to you that you can really make money drawing and selling your art online.
Keep reading to find out how.
How Much Do Illustrators Make?
How much can you really make as an illustrator?
According to a slightly dated survey done by the 3×3 magazine, there are illustrators in the US who earn as much as $948,000 per year. But, $530,000 of that amount came from other sources such as selling prints and commissioned work.
The average income of the best illustrators in New York is around $100,000 per year. But, there are also many who make less than $1K per year.
Indeed Salaries show that the average freelance illustrator in the US charges a rate of around $25 per hour.
Of course, there are other freelance illustrators out there who make over $66,000 selling stock illustrations alone.
Here are some of the strategies they use to make a ton of money.
1. Find Online Gigs
There are many ways to make money online from home. However, the quickest and easiest way to make money as an illustrator or as any other type of freelancer is to look for gigs on freelance marketplaces.
Unfortunately, popular sites such as UpWork and Freelancer.com rarely get jobs related to illustrations or drawings.
So, you need to join niche marketplaces or browse job boards to find illustration jobs.
Best Freelance Sites For Illustrators
Here are some of the best freelance sites and job boards you can use to find illustration and design jobs.
Toptal
Behance Jobs
Smashing Jobs
Dribbble Jobs
99Designs
Indeed
Simply Hired
2. Do Art Commissions
Commissions are a popular strategy many beginning illustrators use to make money online.
This is especially popular among the users of DeviantArt, a community for artists. On DeviantArt, clients can either pay artists with money or DeviantArt points.
There are also other illustrators who use different types of platforms to connect with clients and do commissions. It works like this: A client comes to you with a request for an illustration, you agree on a price, and gets paid when it's done.
How To Find Art Commissions
The difference between freelance gigs and commissions is that you have to promote your work and wait for clients to come to you.
However, there are a few sites dedicated to art commissions as well.
ArtCorgy
ArtFinder
Artists&Clients
3. Sell Your Vector Designs
Selling your work online is the best approach to making a profitable income while generating recurring revenue while you sleep.
You can get started by joining marketplaces like Creative Market, GraphicRiver, and Envato Elements.
These sites allow you to sell all kinds of artwork, from illustrations, character designs, logo designs, mascots, and icon packs, along with various other types of graphics and templates.
However, you can't expect to sell anything on these sites. The key to making many sales is to find a profitable niche.
Visit those platforms and see what types of illustrations and vectors are selling like hotcakes. And figure out a way you can contribute to those categories with even better illustrations.
4. Sell Posters & Prints
Another great way to sell your work online is to sell print versions of your drawings and illustrations.
However, in order to sell your art as posters and canvas prints, you need to build a reputation and promote your work online to attract an audience.
Many artists use DeviantArt to sell posters while promoting their work using the same platform.
You can also use other sites such as Society6 and Printful, which handle all the heavy work, including printing the posters and shipping to buyers. All you have to do is upload the illustration on the website and you'll receive a royalty for each sale.
5. Sell T-Shirts
Selling T-Shirts? Doesn't that require working with factories and manufacturers? Not really!
You can actually design your own T-shirts using your own illustrations and sell them online without even having to touch a T-shirt.
This works the same as selling posters. Sites like Printful, RedBubble, and Design By Humans allow you to upload your art and use it to design products like T-shirts, mugs, and phone cases. Then the sites promote your work and give you a percentage of each sale.
6. Use Twitter, DeviantArt, & Instagram
Staying active on social media is a crucial part of promoting your work as an illustrator. It's also a great way to find freelance work as well.
Just a quick search on Twitter is all it takes for you to find a gig.
Instagram is the other platform you should be using regularly. Use it to upload your best work and also to promote your services
My sister is also an illustrator. She gets most of her clients from her Instagram page. Whenever someone sends her a request, she redirects them to her DeviantArt commission's page.
Most of her clients are people who are looking for character designs and create cartoon versions of themselves. She's not doing freelance work full-time but she makes a little over $100 per month from these gigs while working part-time.
7. Participate In Competitions
Joining design contests is a great way to improve your skills and also show off your skills and stand a chance to win some money at the same time.
I don't normally recommend freelancers to join contests because the contest benefits the clients more than the freelancers. However, if you're a beginning freelancer, these contests can help you build your reputation.
Plus, if you manage to win a contest, you can always use it as bragging rights as well.
Try looking for contests on these sites.
Design Contest
Freelancer Contests
99Designs
Graphic Competitions
8. Learn Hand Lettering
Hand lettering is quite a popular trend these days, mostly surrounding website design, branding, T-shirt designs, and greeting card designs.
Learning hand lettering will certainly make you an indispensable designer and you can use that skill for many other tasks as well.
For example, you can design beautiful wedding invitations and greeting cards using your hand lettering skills to sell online.
Or, make friends with a few web designers. Let them know about your skills and ask to send any clients looking for hand lettering work your way. You can sweeten the deal by offering to pay a small percentage of your payment for the referral.
Here are a couple of courses you can follow to learn hand lettering.
Hand Lettering Essentials for Beginners
Hand-Lettering Workshop: Illustrating with Lettering
The Golden Secrets of Hand-Lettering
Basics of Hand Lettering Series
Hand Lettering Basics: Beginner Guide
Use this link to join Skillshare Premium for free and you can watch all these classes free for 2 months.
9. Create & Sell A Font
You can also put your hand lettering skills to good use by designing your own handmade fonts.
Creating a font requires a little bit of technical knowledge, but it can be quite rewarding. You can generate recurring revenue by simply selling a font on a marketplace like MyFonts, Creative Market, and Envato Elements.
These platforms will take care of bringing in sales and promoting your fonts, all you have to do is create and upload your font.
Here are a few courses for learning how to create fonts.
Design Your Own Fonts: From Paper to Screen
Turn Hand-Painted ABCs Into Versatile Vectors
Hand-Drawn Typography: Create Your Own Font
Type Design: Build a Simple Display Font
10. Create An Online Course
It may seem like a lot of work but you can actually make more money selling online courses than any other strategy.
All you have to do is record a screencast while showing how your draw a character or a poster and people will pay to watch it.
There are professional illustrators out there who make thousands of dollars selling online courses on platforms like Udemy and Skillshare.
This particular course has been sold more than 22,000 times. If it sells at $10 each, that's $220,000. Even if Udemy takes 50% of the sales, you'll get $110,000.
Not bad for recording a few videos, right?
There's also a new platform called Tutpad. It's dedicated to artists. You can become a teacher at one of these sites to easily sell a course and make some extra cash.
11. Publish A Web Comic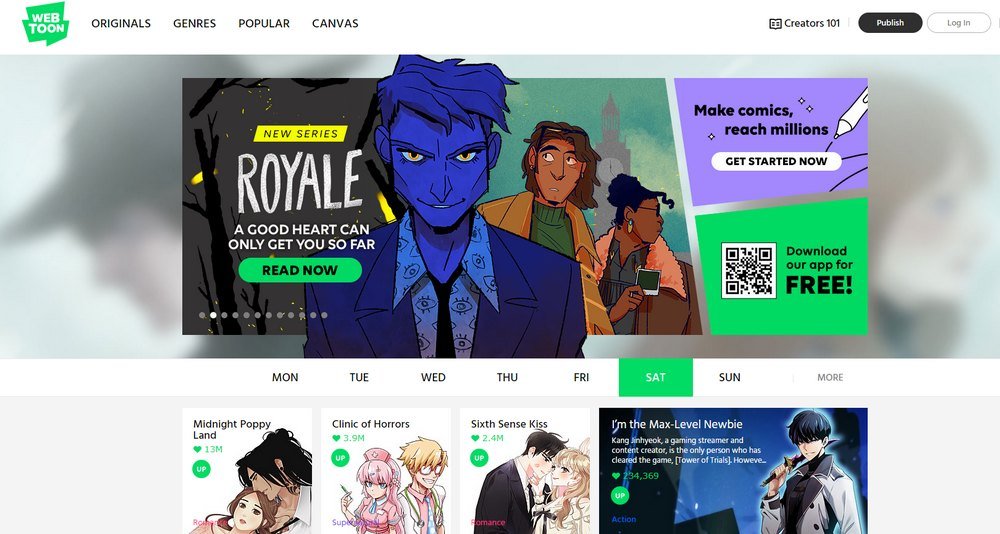 If you're skilled in drawing comics, you could easily turn your passion into profit.
There are platforms, like Webtoon, that allow you to publish your own digital comics on the web. It's free and it allows you to easily share your passion with the world. And build an audience around your comics.
Most creators use this as an opportunity to grow their own following. For example, you can create a Patreon and promote it through your webcomic. It's a surefire way to attract more patrons and build a passive income stream to fund your creative journey.
This method usually takes a while to develop. So try to work on this as a side project until you get a decent following.
12. Start A YouTube Channel
This may not help you earn money right away but starting your own YouTube channel can be a great way to earn some extra cash in the long run.
There are many artists who run their own YouTube channels on the side. They share the timelapse of their drawings or teach things by making videos.
You should try to do the same. It will take a while before you see the fruits of your labor but it will pay off well.
13. Cold Emailing
Another way to find work online is simply cold emailing.
If you can find a good business or a company that could use your skills, you can reach out to them and ask if they have any open positions.
For example, you can do some research to find a client who could use a new social media campaign and you can design illustrations and art for unique social media posts. You can pitch this idea via an email.
I talked about this process in a recent article. You can read it here.
Look For Other Opportunities
Keep your eye out for other opportunities. For example, browse online forums and look for jobs. Many companies, like video game developers, often post jobs for game level designers and character designers.
What other strategies do you use to find work online? Leave a comment and let me know.
Images via Freepik.com
Did you find this article useful? Then you should check out my book Freelance Like A Pro. It includes 21 lessons and 5 secrets from my freelance career to help you supercharge your journey as a freelancer. And I have just released the 2024 edition of the book with updated content. Click here to learn more.