When you search for freelancing websites, one of the top websites you see on Google is Upwork.
Upwork is one of the oldest and most popular freelancing marketplaces available today.
Millions of freelancers from around the world are using Upwork right now to find freelance jobs.
But you're here looking for an Upwork alternative? Well, you've made the right decision.
Whether you're starting new as a beginning freelancer or tired of paying platform fees, there are far better alternatives out there for Upwork.
In this post, I'll give a few suggestions for you to get started.
Why Use Upwork Alternatives?
Upwork is a platform that generates billions of dollars worth of revenue.
As of 2022, the platform hosts more than 145k active clients who regularly post jobs and hire freelancers. Upwork generates over $2.5 billion every year from these clients.
Now, you might be thinking why look for an alternative when Upwork has such a massive client base. Wouldn't it be easier to find jobs when there are many clients using the platform to hire freelancers? Well, not exactly.
Yes, having more clients posting lots of jobs can be a good thing. But the quality of these jobs and clients also matter.
For example, most clients use Upwork to find cheap talent. They post a job for a logo design but only with a $25 budget. And thousands of freelancers will still bid on it. That's one part of the other problem.
There are millions of freelancers using the platform who are willing to work for far less than what you charge for a job. This creates unnecessary bidding wars between freelancers. And tough competition.
If these reasons aren't enough for you to use an alternative, get a load of this statistic.
Upwork generated $226.7 million in 2020 as revenue from freelancers. That's right from Freelancers!
Upwork charge hefty platform fees from freelancers for every job they complete. And on top of that, they charge a payment processing fee when you withdraw your earnings.
And the platform only gives you a limited amount of tokens per month for applying for jobs. If you run out, you have to pay money to get more tokens.
Pay To Leave The Platform?
Upwork recently changed its terms of service to introduce a new rule.
Now, if you want to leave Upwork to work with a client outside the platform, you have to pay a fee of up to $50,000!
The funny thing is they made this change to the ToS without even informing the users. They silently released it and luckily it was noticed by a user. You can read more about it here.
The point is you should leave this platform as soon as you get a chance. Upwork is run by a big corporate company and it's getting increasingly more restrictive for freelancers.
You should not be using a platform that follows such predatory regulations. Try some of these far better sites for a change.
1. LinkedIn Jobs
It's funny how sometimes you look everywhere for something better when the best is right in front of your eyes. LinkedIn is just like that.
Most freelancers rush to join the most popular platforms out there when the best platform goes unnoticed.
LinkedIn offers the best opportunities for finding remote jobs and freelance gigs. The new LinkedIn Jobs section is designed to help you find the best jobs that match your skills and experience, especially jobs from local businesses.
Chances are you already have a LinkedIn profile setup. So why not use it to land a job.
LinkedIn is great for finding local jobs. But you can customize your search to find remote and freelance jobs in just a few steps.
The best part is it won't cost you anything. No platform fees, no payment withdrawal fees, nothing!
2. ProBlogger Jobs
If you're a freelance writer and you still haven't heard of ProBlogger Jobs, you are about to discover greatness.
ProBlogger Jobs is the best platform you can use to find all kinds of freelance writing gigs.
It's a job board that features job listings from many different types of websites, blogs, and magazines. Here, you'll find jobs for bloggers, writers, copywriters, and more.
The platform, however, is most suitable for established writers who already have some experience in the field. Because most of the job listings come from top-tier websites and businesses.
Much like LinkedIn Jobs, using ProBlogger Jobs is also free. You can contact clients directly via email to pitch your proposal.
3. SimplyHired
Known as the search engine for remote jobs, SimplyHired is a great site you can use to find both location-based jobs and remote freelance jobs.
It's like using Google. All you have to do is type in a job title and enter "remote" in the location field to find remote jobs. The site will give you a search result full of jobs from various companies.
You can apply to these jobs directly via email. So there is no need to pay a platform fee or subscription to use SimplyHired.
4. We Work Remotely
We Work Remotely is another up-and-coming freelance job board that features jobs from various companies.
The site is fairly new so you won't have to compete with lots of freelancers to land a job here. But it also means there are fewer jobs available on the platform.
This site is especially great for coders and developers to land high-paying gigs.
You don't have to pay any fees to use the platform. You can contact clients directly via email.
5. FreeUp
FreeUp is a unique freelance marketplace that works much more like a freelance agency.
The platform has a complicated vetting process that tests your skills and experience before being approved into the platform. They claim to hire the "top 1% of online freelancers".
FreeUp is a good Upwork alternative that has similar features. Except on this site, you have to show your skills to get accepted. And it also means there will be fewer freelancers to compete with.
The platform has a 20% fee that they charge from the clients. As long as you include that in your hourly rate, it won't be cut from your earnings.
6. FlexJobs
FlexJobs is one of the largest job boards available online. It features jobs from some of the top-tier companies to small businesses and more.
The platform allows you to find location-based jobs as well as remote jobs quite easily. The platform also promises that all clients who post a job are carefully vetted and it's scam-free.
However, you have to buy a $9.95 monthly subscription to join FlexJobs. While it may sound expensive, it's actually much cheaper when you consider that you don't have to pay a platform fee.
On other platforms, it usually takes a cut from every job you complete. But on FlexJobs, you pay a single monthly price and you can work with multiple clients. And of course, you can cancel the membership after landing a job and reactivate whenever you like.
7. PeoplePerHour
I'm not a big fan of PeoplePerHour. It has policies and terms similar to Upwork. But they are not as evil as Upwork. So it's a good alternative you can use when there's no other option available.
On PeoplePerHour, you can apply for jobs as well as create Fiverr-like gigs to land clients. And yes, the platform is filled with millions of freelancers so you will have to deal with some competition.
It also takes a 20% cut from every job your complete. Use the site to land your first couple of clients but don't depend on it.
8. Toptal
Toptal is a trustworthy platform that only accepts the best freelancers into the marketplace.
Toptal is great for skilled programmers and developers. It's also good for UX designers, finance experts, and project managers.
Toptal claims they only hire "top 3% of freelance talent" so be prepared for a tough interview process if you want to join the platform.
The good news is Toptal doesn't charge any fees from freelancers. All costs are covered by the clients.
9. College Recruiter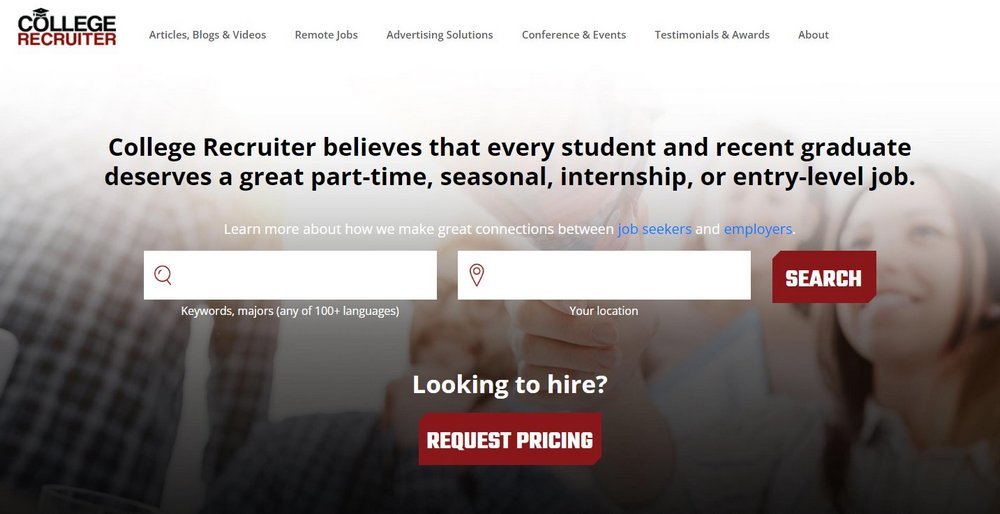 If you're a college student, College Recruiter is a great platform you can use to find jobs that are catered to your skills and experience.
This site features jobs from businesses that are looking for freelancers with college-level skills and education. And it features internships, part-time gigs, and entry-level job offers as well.
Sadly, I couldn't find any info regarding its platform fees.
10. Behance Jobs
If you're a designer, you'll find lots of great opportunities in the Behance Jobs section.
This is like a job board for graphic designers. It usually has thousands of job postings from companies looking for different types of designers.
There are no fees for using the site or applying for jobs. It's free!
But, make sure you have a great-looking Behance profile before applying. It will help you land clients more easily.
In Conclusion
I often recommend Upwork for freelancers as a starting point. It's a good platform for beginners to learn the basics like how to apply for jobs, communicate with clients, and work on the first project.
But beyond that, you should not use such a platform to find work. It will simply get in the way of your entire freelance career.
I hope this list helps you in some way to find a good Upwork alternative. Be sure to check out my other list of low-competition freelance sites for more.
Bonus: 5 Tips For Finding Freelance Work Online
I wanted to leave you with a few extra tips to get a head start in finding better jobs.
1. Explore Niche Job Boards
Look for niche job boards or websites specific to your industry. These platforms cater to specialized freelancers and often have higher-quality listings. Regularly check these boards, customize your applications, and demonstrate your domain expertise to stand out.
2. Market Yourself
Build an online presence through a professional website or portfolio. Showcase your best work, share testimonials, and write blog posts or guest articles demonstrating your knowledge. Utilize social media platforms to engage with potential clients, share insights, and position yourself as an expert.
3. Offer Specialized Services
Position yourself as a specialist in a specific niche or industry. Focus on developing expertise in a particular area and market yourself as the go-to freelancer for that niche. Specialization sets you apart from generalists and allows you to command higher rates and attract clients seeking specialized skills.
4. Collaborate with Other Freelancers
Expand your network and collaborate with fellow freelancers. Partnering with complementary skill sets can lead to joint projects and referrals. Share resources, knowledge, and clients to create mutually beneficial opportunities.
5. Follow Up with Previous Clients
Reach out to past clients and express your interest in working together again. Remind them of successful projects you completed together and offer new ideas or services that align with their needs. Cultivating long-term relationships with satisfied clients can lead to repeat business and referrals.